Before participating in our Advent video or reading the blog, consider reading Jeremiah 33:14-16 to prepare your heart for Jacob's message.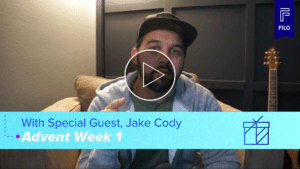 The context for this passage comes as Israel is overrun by Babylon. In the midst of this, Jeremiah is reminding the children of Israel of the hope for their future. He's reminding them of who God is, that God has forgiven them and not abandoned them, and that God will keep his promises even though Israel has betrayed him. I'm sure it didn't feel like that at the time; but, as we now know–God kept his promise.
It is in this passage that we are reminded again of God's character. He is a keeper of promises. What situation are you going through where you need to remind yourself of this truth? What are you struggling with that you need to surrender to God? During this season, we can have a lot on our minds: family dynamics, work insanity, and even our own personal struggles. If you weren't thinking about them before you started reading this, I'm sure you're thinking about them now. But wait, it gets better! 
I'd like to encourage you to take a moment, pray, and align yourself with God's promises. I invite you to practice relying on God for some "daily manna" as the Israelites did when they were led out of Egypt. Pray and trust God for today, not tomorrow, not next week–but here, now. And tomorrow, do the same and trust him for just tomorrow. Perhaps he is allowing you to go through this season not because there's something you need to learn; rather, because there's something you need to UN-learn. Maybe that thing to un-learn is trusting and relying on anything but God for your peace of mind, hope for the future, and security from evil. 
Lastly, I know it can be easy to say, "trust God's promises," but the reality is that I am not so great at just manifesting more trust and magically making everything better. So the advice that was given to me that I'll pass along to you is this: 
Take a look at your day and acknowledge the "thing" that requires you to exercise the most discipline. Maybe it's dealing with THAT PERSON at work, or perhaps it's getting your kids to school on time, or maybe it's working through a specific insecurity you have. Whatever it is, hold that idea in your mind and then invite God into that process. It may be a simple prayer like what Peter said to Jesus when he was drowning, "Lord, help me." It may be a moment to pause and breathe where you ask the Lord for strength to have that "crucial conversation." The key is when you find yourself at your edge, invite God to be with you right there and let His peace that surpasses all understanding guide your heart, mind, and actions. 
I pray that you find some peace in this chaotic season my friend. And as you find that peace, be someone who passes it along to others.
---
Need some community and prayer during this time? Reach out to us and let us know how we can pray for you, your family, your team, and your church this holiday season!