Before participating in our Advent video or reading the blog, consider reading Luke 2:8-20 to prepare your heart for Justin's message.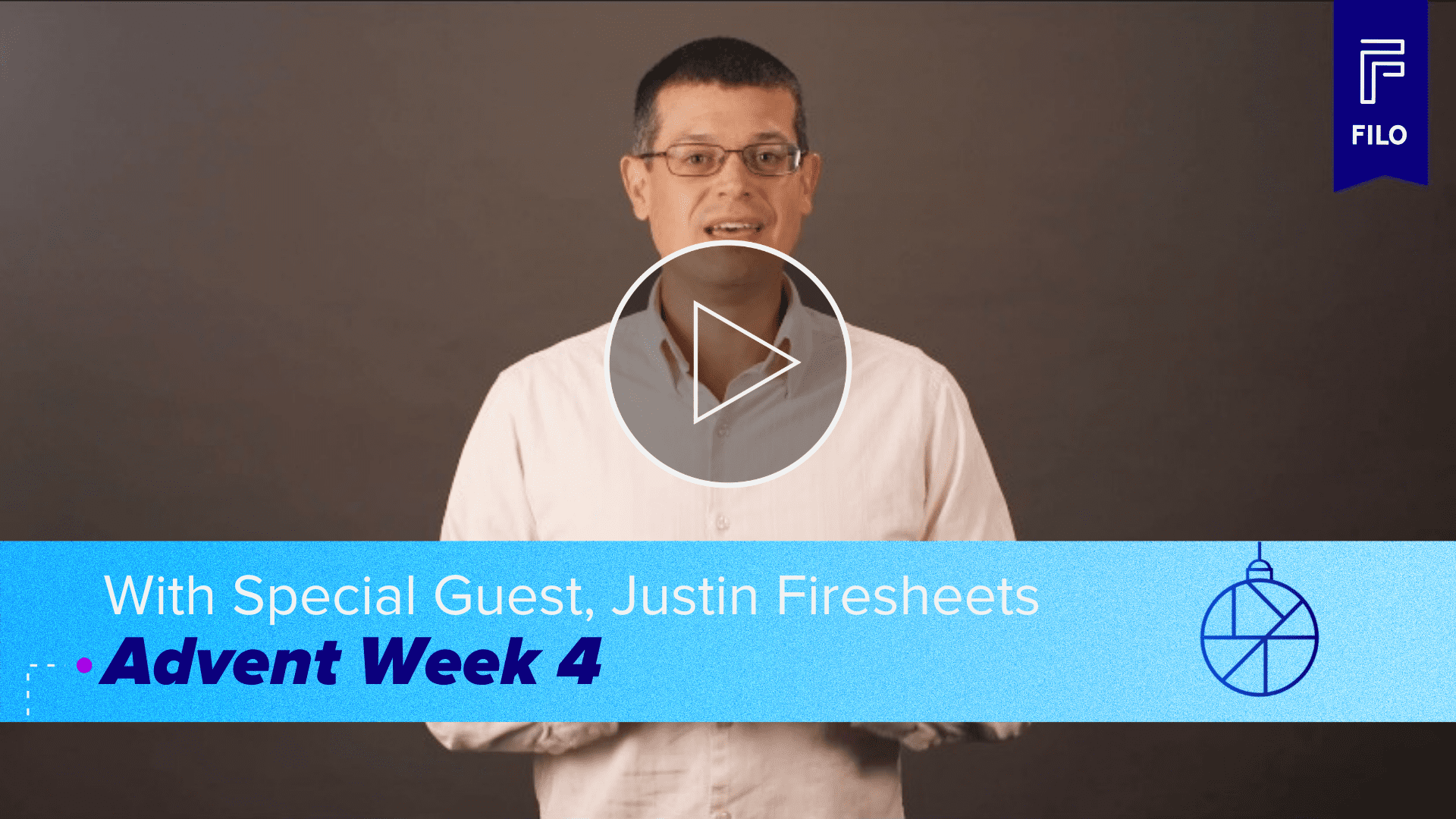 Luke 2:8-20
8And there were shepherds living out in the fields nearby, keeping watch over their flocks at night. 9An angel of the Lord appeared to them, and the glory of the Lord shone around them, and they were terrified. 10But the angel said to them, "Do not be afraid. I bring you good news that will cause great joy for all the people. 11Today in the town of David a Savior has been born to you; he is the Messiah, the Lord. 12This will be a sign to you: You will find a baby wrapped in cloths and lying in a manger."

13Suddenly a great company of the heavenly host appeared with the angel, praising God and saying,

14"Glory to God in the highest heaven,

and on earth peace to those on whom his favor rests."

15When the angels had left them and gone into heaven, the shepherds said to one another, "Let's go to Bethlehem and see this thing that has happened, which the Lord has told us about."

16So they hurried off and found Mary and Joseph, and the baby, who was lying in the manger. 17When they had seen him, they spread the word concerning what had been told them about this child, 18and all who heard it were amazed at what the shepherds said to them. 19But Mary treasured up all these things and pondered them in her heart. 20The shepherds returned, glorifying and praising God for all the things they had heard and seen, which were just as they had been told.
​​I imagine that all of us are rather familiar with the Christmas story as told in Luke 2. That tends to be one of the most popular Bible passages shared during the Christmas season.
Unfortunately, when we get used to hearing or reading something a lot, it can become easy to gloss over some of the details.
A couple years ago, my pastor pointed out something about this narrative that I'd never considered before, and it's about the shepherds.
As Luke 2:8-20 (NIV) reminds us, it was these lonely shepherds out in the fields who were the first ones to get the message about Christ's birth.
But why them? Why not someone else?
In those days, being a shepherd was an occupation commonly seen as one towards the bottom rungs of society. Shepherds tended to be outcasts a bit, since they lived out in the fields constantly. They probably didn't have many great social relationships due to their constant isolation, they were often overlooked or forgotten by others, and some cultures even found them "detestable" (Gen. 46:34 NIV).
If God was trying to deliver a message of hope, joy, and expectation, then maybe shepherds were the perfect group to receive it first. It was a way to show that this message was for everyone; there was no discrimination and all were welcome and invited. Everyone was important and special.
But the catch is that the shepherds had to first understand and receive that message before they could go into the town and share it with others.
So what does that have to do with a modern church tech artist?
Maybe you and I are modern-day shepherds, in a sense. In our role, we tend to be forgotten or overlooked. Maybe we don't blend in with others in various social circles, maybe we're misunderstood or neglected, and maybe we often feel isolated or alone.
But this Christmas season, we, like the shepherds, get to be the vessels who share the message of hope and joy with everyone!
It doesn't matter what one's role in ministry (or society) is. Jesus came as a light for all of us, and all of us are equally able to receive and share it.
Like the shepherds though, I must first understand, receive, and internalize that message before I can share it with others.
This Advent season, as we're all working long hours behind-the-scenes or alone after dark, when that discouragement or loneliness begins to set in, we can remember that like the shepherds, we've been entrusted with the greatest message ever given to the world. And even through our occasional dark times in life, there is Light that didn't just come for the masses; it came for you and me!
While I might be busy, I need to ensure that I'm finding time to slow down and meditate on what this season means. It's not just about music and videos. It's about joy and hope. And I've been chosen to be one of the ones to deliver this message of good news to those who need it!
---
Need some community and prayer during this time? Reach out to us and let us know how we can pray for you, your family, your team, and your church this holiday season!